Delicious Colombian arepas made with pre-cooked cornmeal, butter and mozzarella cheese.
Today, to inaugurate this new project I decided to start with Colombian arepas. I was thinking a lot of what could be the main ingredient that represents my birth country, and without a doubt is the much adored arepa. And what in the world is an arepa? For us Colombians the arepa is an essential ingredient of every dish in our country. We eat it for breakfast, lunch, dinner, with eggs, butter, meat, bacon, as a side dish for soups, stews, beans, in short, we eat it daily and to many, if their plate does not come with the blessed arepa, they're not satisfied.
The arepa is a type of tortilla made from corn. The indigenous tribes who inhabited what is now Colombia and Venezuela were the creators of this product, which today is an integral part of our cuisine. But of course, back then they had to peel the cob, cook the corn, grind it, make the arepas and then cook them. In fact, I had the pleasure of watching my mom and my great aunt get up every day at 5 in the morning to make the arepas of the day, but I imagine that for them it was not as fun to get up so early in the day to make a whole bunch of arepas. Fortunately, today that corn meal is sold ready to knead and it comes not only already ground, but also pre-cooked. What could be easier than that?
INGREDIENTS:
Water: It's always best to use warm water because it makes it much easier to dissolve the cornmeal.
Salt: This is key to give the arepa good flavor.
Pre-cooked corn meal: You can use any brand to make this recipe. Use the one you can find at the grocery store.
Butter: This ingredient adds a delicious flavor and also helps to soften the dough.
Cheese: I love to use mozzarella cheese for this recipe, but you can use all types of cheese to change or enhance the flavor.
I cannot emphasize enough that the corn meal has to be especially for making arepas. You're going to find all kinds of different brands and any of them will work as long as they are made especially for arepas. Don't use the Mexican flour that is used for tamales. Don't use regular yellow corn meal. And please, do not use pancake flour because then they wouldn't be arepas, they would just be pancakes.
Where can you find the corn meal? In the US you can find it at most Latin grocery stores, almost guaranteed. You can also try to find it online.
In this video I will show you how I make arepas at home for my family. They're very easy and quick to make, and absolutely delicious. Each person has his or her own way of making them, many make them with just
the corn meal and grill them on the stove, others use milk instead of water and others, like me, use cheese and butter so they can have a golden, delicious crust.
THE PROCESS:
Mix all of the ingredients in a large bowl and knead until the dough is soft and smooth. If you notice that it is a bit dry, you can add more water. And if you see that it is still too wet, you can add more corn meal.
Shape the arepas anyway you want. They can be thin, thick, small, large, round whatever shape you like best. This step is not rocket science.
Grill the arepas on a hot grill or on a buttered griddle or pan, the choice is yours. The key is to make grill them at a medium-high temperature to give them a golden brown crust. Remember that the corn meal is already pre-cooked and you are not grilling them to "cook" them, but to give them a golden brown color.
¡Buen provecho!
Print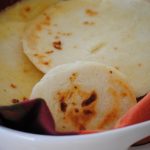 Colombian Arepas
Prep Time:

0 hours

Cook Time:

0 hours

Total Time:

0 hours

Yield:

4

to

5

arepas

1

x

Category:

Arepas, Breakfast, Colombian, Side Dish

Cuisine:

Colombian
---
1 cup

(

240

ml) warm water

½ tsp

salt or to taste

1 cup

(

150 g

) pre-cooked white corn meal

1 tbsp

butter

1 cup

(

100 g

) shredded mozzarella cheese
---
Instructions
Mix the water, salt, corn meal, butter and cheese in a bowl large enough to knead the dough.
Knead until all the ingredients are mixed well and the dough has a soft consistency. If the dough is too dry, add a little bit more water. If it's too wet, add more corn meal.
Start forming balls the size of a medium orange and place them between two sheets of plastic. Flatten them with a rolling pin to your desired thickness.
Cut the dough through the top plastic sheet with a bowl, glass, cookie cutter, etc., take off the plastic, the excess dough and now you have a perfectly shaped arepa.
Cover a griddle or pan with butter spray or a stick butter. Turn on the stove on to medium high and when the griddle is hot enough, add the arepas and grill them for 5 minutes on each side or until they are golden brown. Serve immediately.
---