I think it was some time last year that I was walking down the meat aisle at Costco and noticed that they were selling pork belly. I had never seen it there before and it totally made my day because this meant that I didn't have to make an hour drive to my favorite Mexican butcher shop to get it. The only downside is that they sell it without the skin, which is one of the best parts of this cut of pork meat. I'm not quite sure but I think it was not always the case because the first batch of pork belly that I bought from them did have it, sadly, this time around, it did not. This doesn't mean that I'll stop buying it from Costco because I do appreciate the fact that they at least sell it even though it would be nice if it did have the skin on it.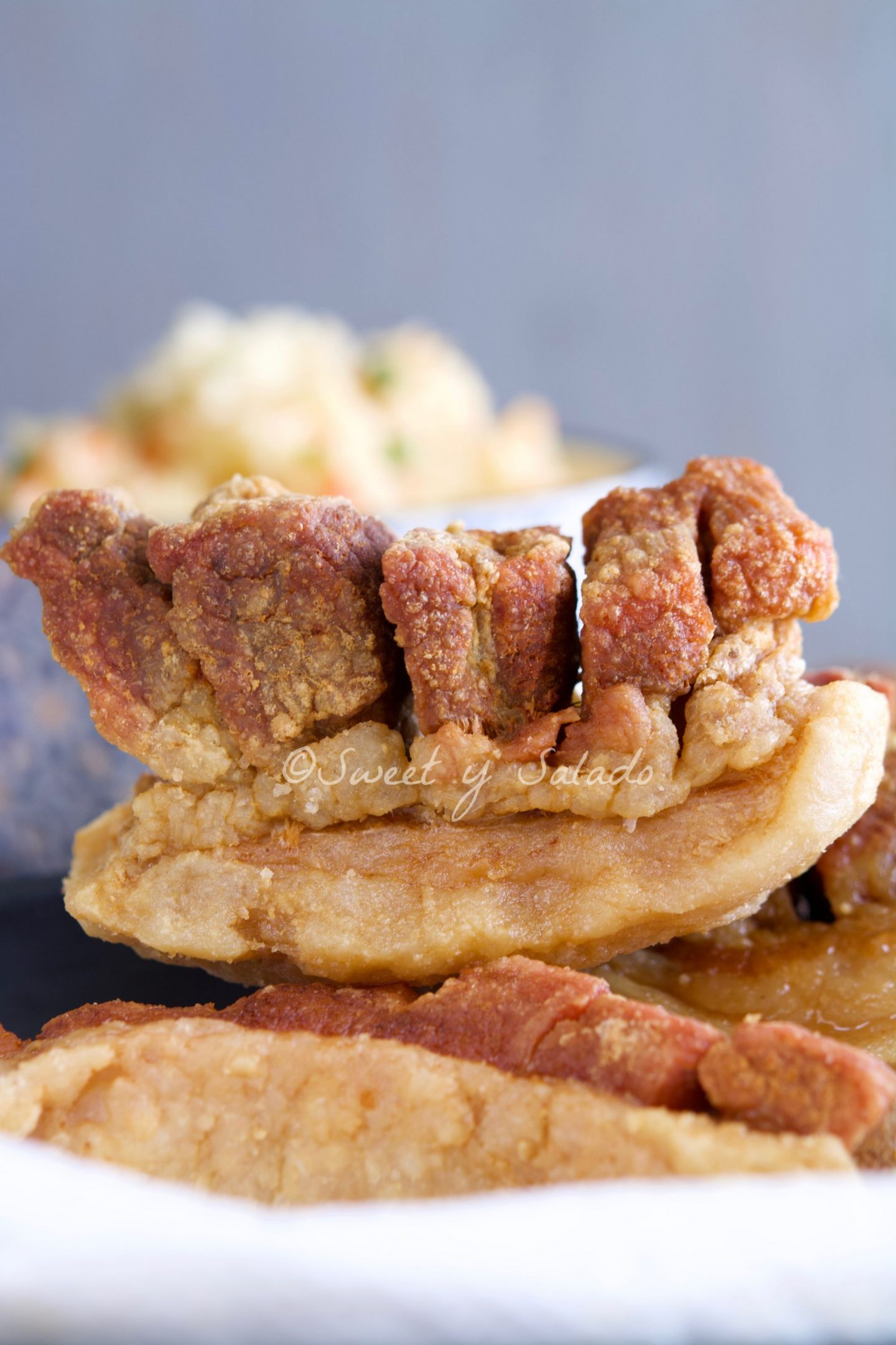 As you can see from the pictures it's really not a big deal that it doesn't come with the skin because you still have a thick piece of pork fat with about an inch of pork meat right on top and if you season it well, it comes out perfectly. You can also use it to make other Colombian meals like beans, lentils and mondongo.
The other difference between this recipe and the first one I posted on the blog is that I'm deep frying it instead of letting it fry in its own fat. It's not my favorite way of making it because for one, you're adding unnecessary extra grease to a cut of meat that is already pretty fatty, but also because I notice that when you deep fry it, the oil tends to shrink the meaty part of the pork belly and who wants that? You may not notice it right away, but it does. There are other ways of making it such as baking it in the oven which I have done a couple of times and I have also been told that the air fryer does a pretty good job as well, but I have yet to try. So for those people who believe that deep frying it is the only way to make this recipe, and believe me, there are many out there who message me directly to let me know, it's not true at all. There are many ways you can season it, marinate it and cook it and it will still come out delicious.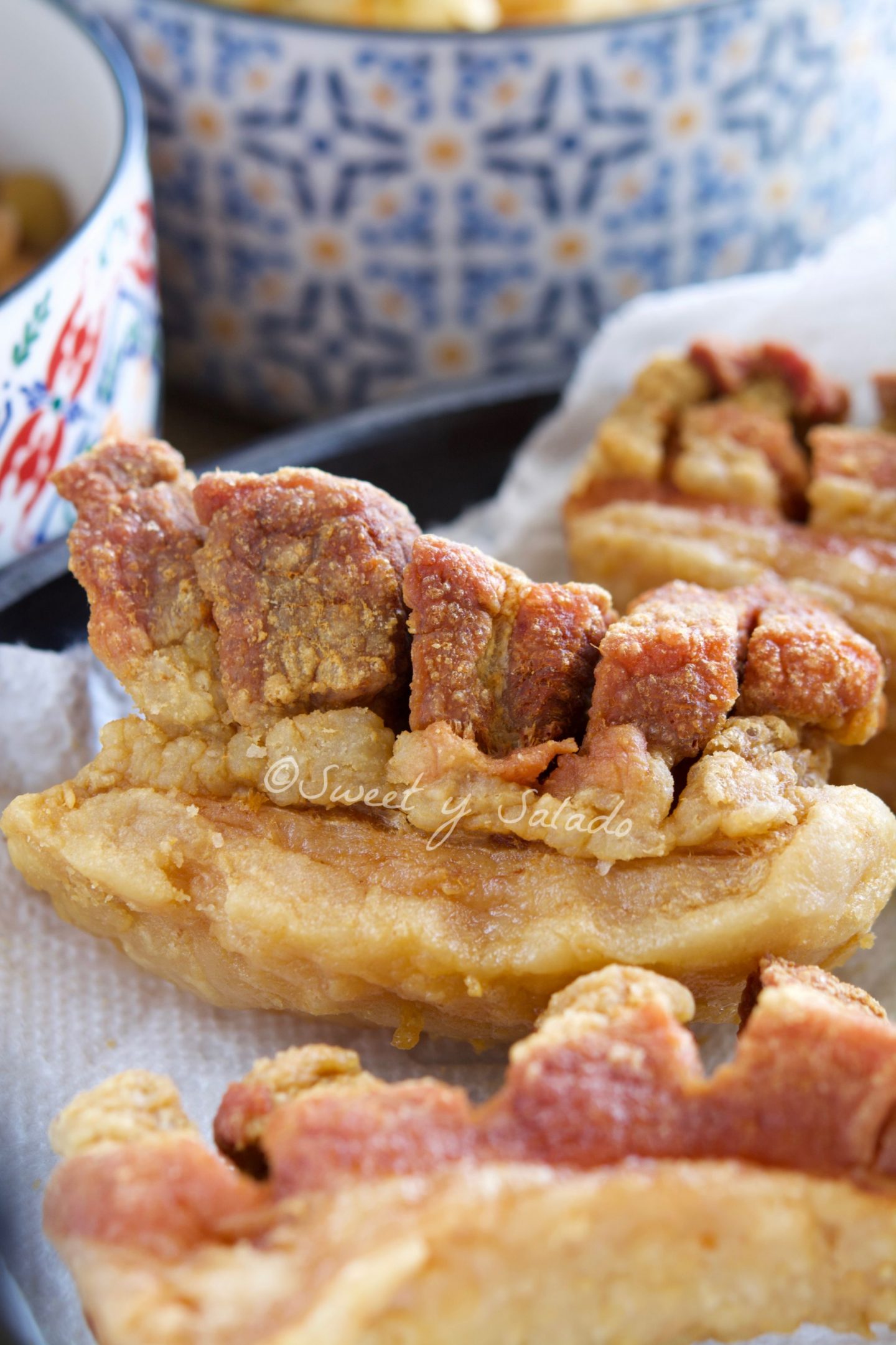 ¡Buen provecho!
Ingredients
½ lb pork belly cut into about 1 inch (2,54 cm) thick
½-1 tsp baking soda (Make sure to use a measuring tsp)
Oil for frying (Vegetable, corn, sunflower, canola)
Salt to taste
Instructions
Rinse well and pat dry the strips of pork belly. Rub the skin and meat with baking soda and salt to taste. Place it in a medium container, cover and refrigerate for at least 1 hour. Then, if you want, you can rinse it and pat dry it before frying.
Pre-heat oil between 350°F - 375°F (180°C - 190°C).
Divide the pork belly into desired portions. Then, make the "legs" or "teeth" by making ½ inch (1,27 cm) incisions with a sharp knife. Make sure to stop right before you cut the fat and skin.
Deep fry the pork belly in the hot oil until it's golden brown and crunchy (about 10 minutes). Remove the pork belly pieces from the oil, drain on paper towels and season with more salt to taste before serving.
https://sweetysalado.com/en/2019/06/fried-pork-belly-version-2.html