Colombian manjar blanco (dulce de leche) is a delicious treat that is usually made during the holidays. All you need is rice, milk and sugar.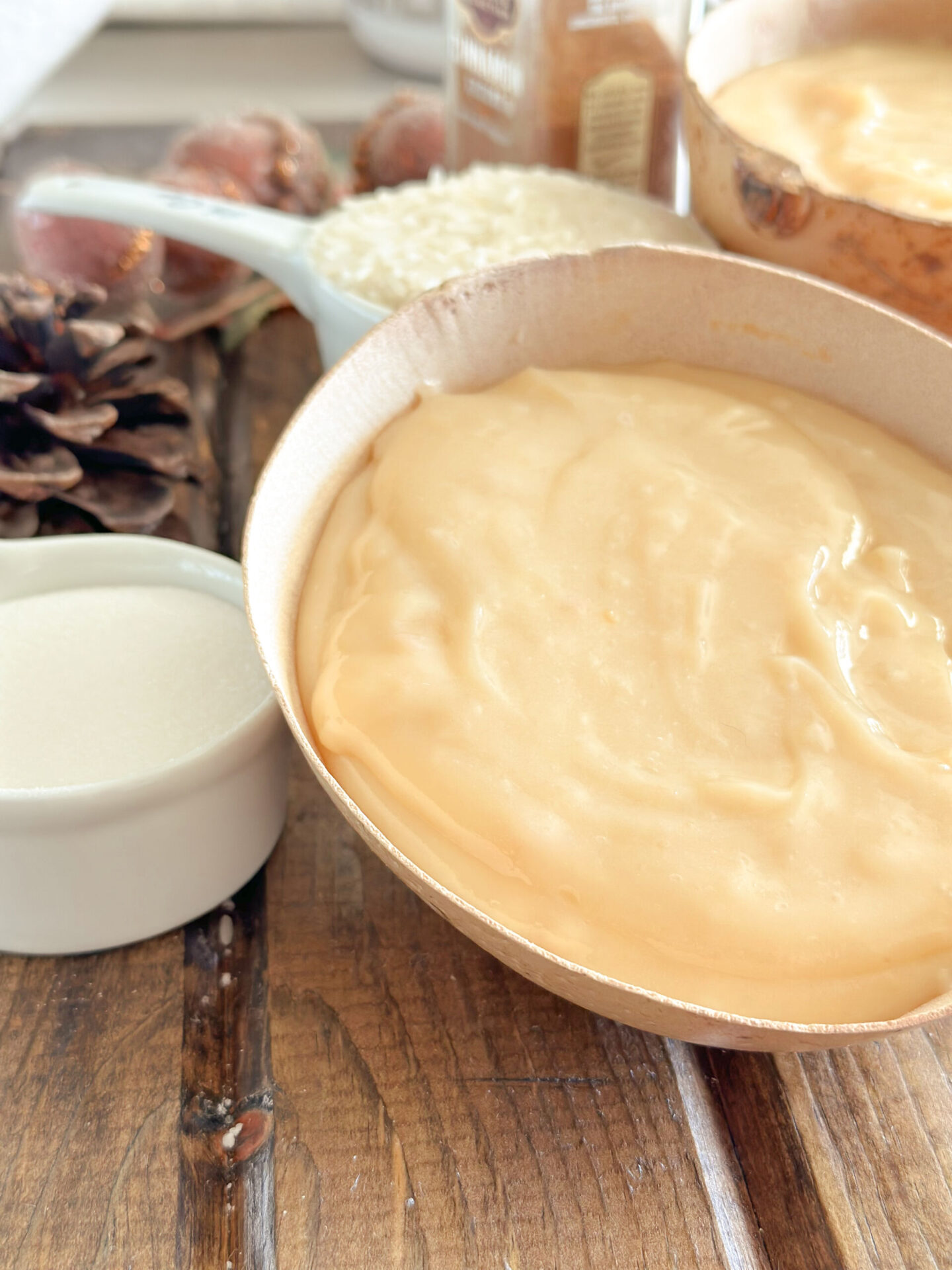 Colombia is a country full of traditions that usually revolve around food, especially during the holidays. We always have to pray the novena with friends and family and take advantage of those wonderful get togethers to serve all kinds of delicious treats like natilla, buñuelos, hojaldras and sabajón. A hilarious thing that I used to do when I was kid was rate our neighbors's food every time they came over to wish us happy holidays. Most dishes got a sturdy thumbs up, but others would stay untouched until someone had the heart to throw the whole thing out.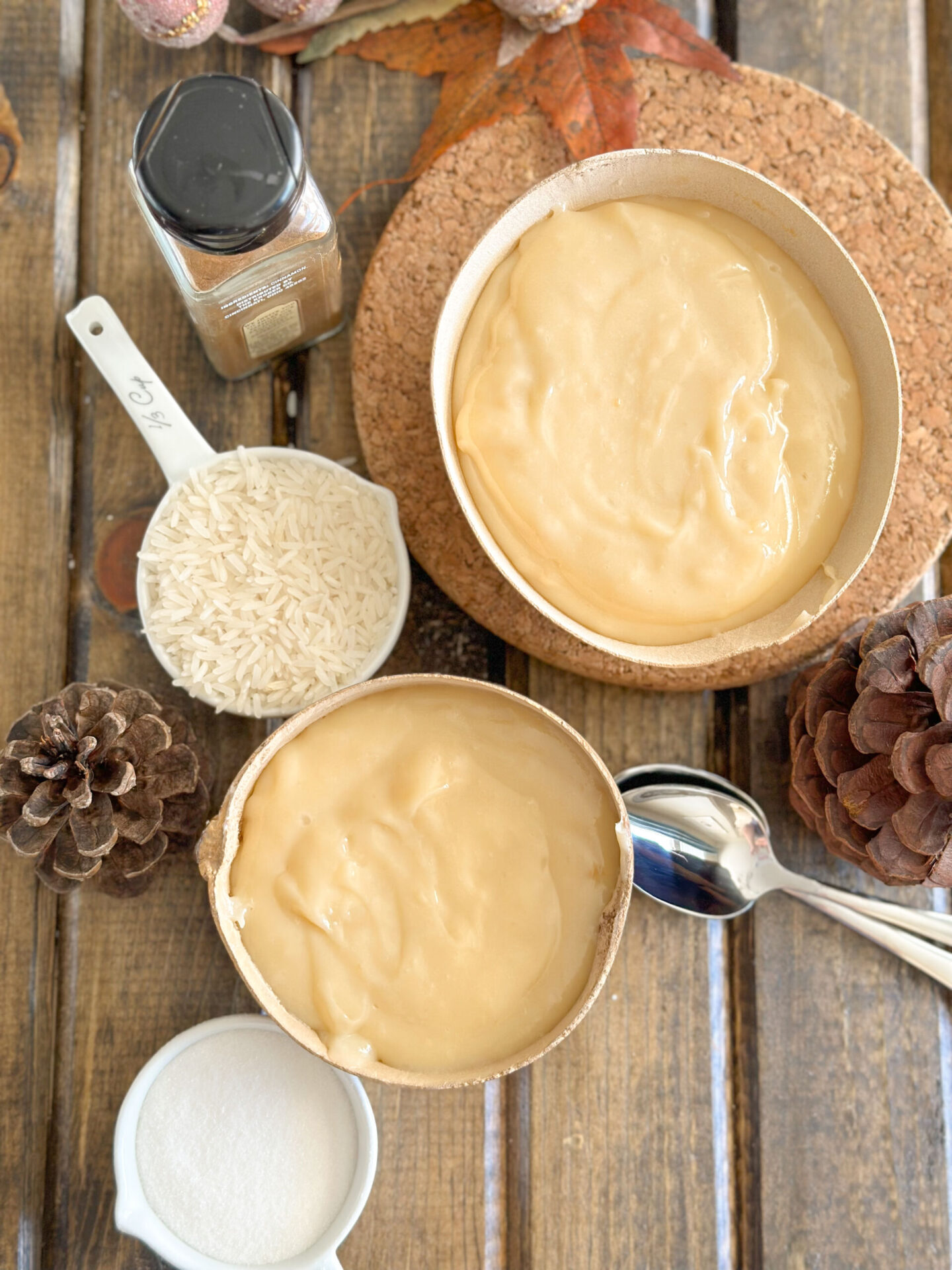 Manjar blanco, which is usually made in the Valle del Cauca, is another special delicacy that is out of this world delicious. This is also one of those times when everyone gets together to help out because depending on the amount that you make, it can take hours for the milk and sugar to thicken. Trust me, I've done it and it can be a lot of work! However, don't let that deter you from making it. It takes patience but it is completely worth it.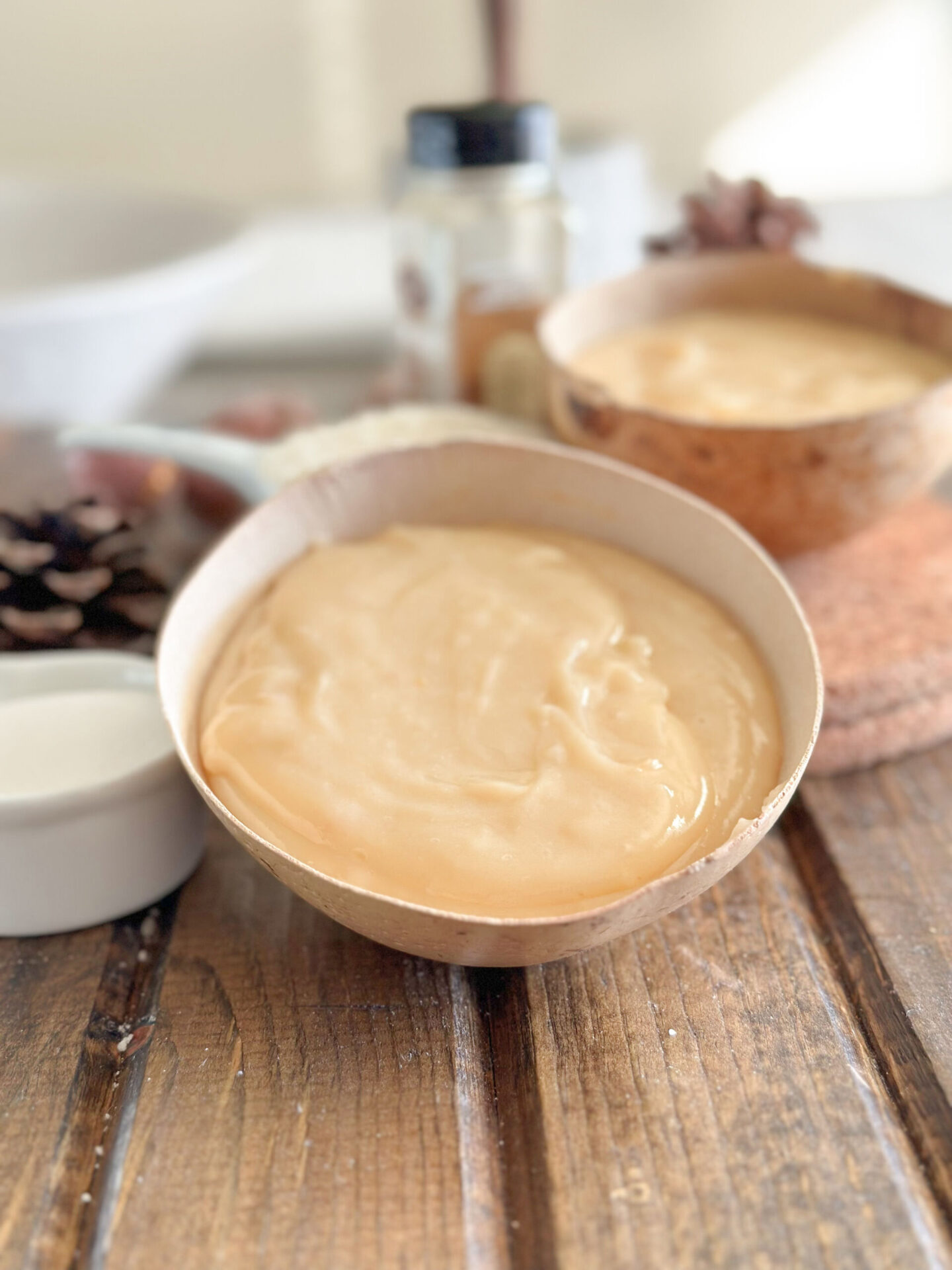 Manjar Blanco Ingredients
Rice flour or white rice: We use it as a natural thickener. It is much easier if you have rice flour on hand but I simply soak white rice in water, blend it and then drain it to get the starch.
Milk: I highly recommend using whole milk for this recipe. The high fat content will give you a much better result.
Sugar: Some people still use panela to make this recipe but I prefer to make it with white sugar since that is what I usually have in my kitchen.
Baking soda: This gives the manjar a deeper caramel color but it is completely optional.
The Process
The first step is to get the starch from the rice since this is what will thicken the manjar. Now, as I said earlier, if you have rice flour, you can skip this step. What I always do is soak the rice overnight in plenty of water. This will soften it and it will be easier to blend.
The next day all you have to do is blend it with about a cup of milk and then drain it using a cheesecloth. Make sure to squeeze it as much as you can so you can get all of that starch from the rice. Some people repeat this process a couple more times just to make sure they are getting every single drop.
Next, you will bring the milk to a boil on high heat and then add the sugar and the rice starch. Keep the heat on medium high while stirring so the starch doesn't sink to the bottom of the pot.
And now all you have to do is stir… stir… and stir some more. After you've been stirring for about an hour and thirty minutes, (some times longer), you will notice that it will start to thicken. At about hour 2 you will know that it is ready when you start seeing the bottom of the pot. It is the most glorious feeling!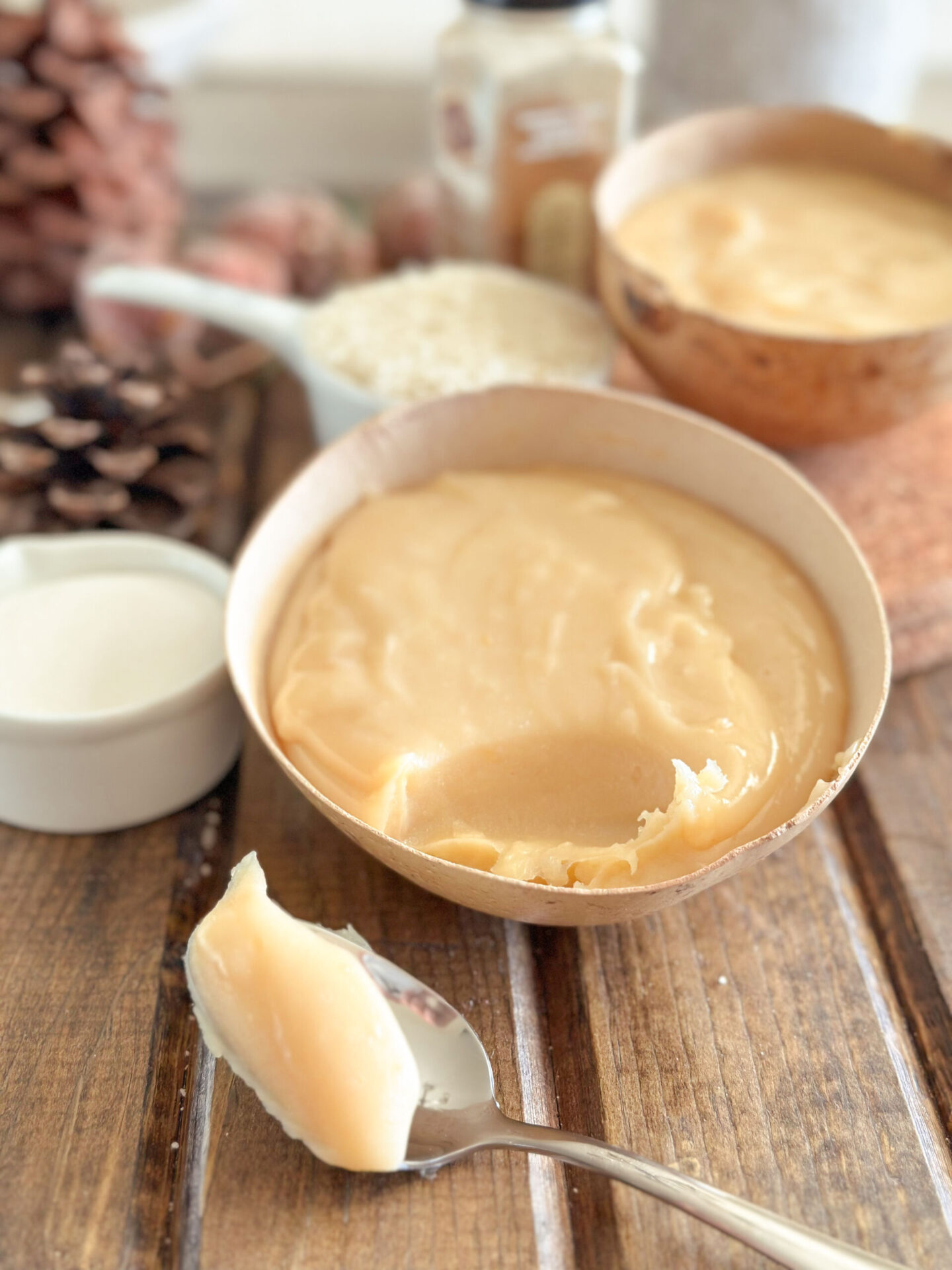 How To Serve It
In the Valle del Cauca it is tradition to serve it in "totumas", which are dry gourds that grow in a tree called "totumo". They resemble hard shells and when cut in half they are used for all kinds of uses, mainly as cups or bowls for serving. If you don't have a totuma, which in all honesty most of us don't, just serve it in any dish that you want. My suggestion? Buy inexpensive small cups to give away as presents, people love them!
¡Happy stirring and buen provecho!
Print
Colombian Manjar Blanco
Author:

Prep Time:

20 minutes

Cook Time:

2.5 hours

Total Time:

2 hours 50 minutes

Yield:

6

1

x

Cuisine:

Colombian
---
Description
Colombian manjar blanco (dulce de leche) is a delicious treat that is usually made during the holidays. All you need is rice, milk and sugar.
---
⅓ cup

(

75g

) white rice or

1 tbsp

(10-1

2g

) rice flour
Water (To soak the rice)

8½ cups

(

2

liters) whole milk (Divided)

2 cups

(

450g

) white granulated sugar
Raisins (Optional)
---
Instructions
Place the rice in a small bowl and add enough water to cover it. Let it soak overnight. (Skip this step if you're using rice flour)
The next day drain the rice, add it to a blender with 1 cup (236 ml) of the milk and blend it for a couple of minutes to try to grind the rice as much as possible.
Lay a cheesecloth or a clean dish towel over a mixing bowl, pour over the rice milk, gather the ends of the cheesecloth and squeeze out the liquid as much as you can. You can repeat this process to make sure you get as much starch out of the rice as possible. Discard the rice.
Place the remaining milk in a large pot and bring to a boil over high heat.
Once it's boiling, add the rice milk (or rice flour if that is what you are using) and the sugar. Lower the heat to medium high.
Keep stirring frequently until the mixture starts to thicken. This can take between 1½ – 1 hour and 45 minutes.
After about 2 hours you will start to see the bottom of the pot, which means the manjar is ready. At this point you can add raisins if you want.
Pour the manjar over "totumas" or small cups. Let it cool completely before serving.
Notes
Once the manjar is warm (not piping hot) you can sprinkle the top with granulated sugar
This recipe makes 4-6 servings of about ½ cup each.
You can store it in the refrigerator for up to one week.
Keywords: Christmas, Colombian, Holidays, Sweet