In this blog I already shared with you two recipes for making different types of Colombian sancocho which are the beef short rib sancocho and the hen sancocho. Both recipes are absolutely delicious even though I made each one differently. In this third recipe for sancocho trifásico (three meat soup) I also use other ingredients and use different steps to make it than the other two. Why? Simply because I want to show you that one recipe can be made in several ways and using other types of ingredients to get the same result, a delicious soup.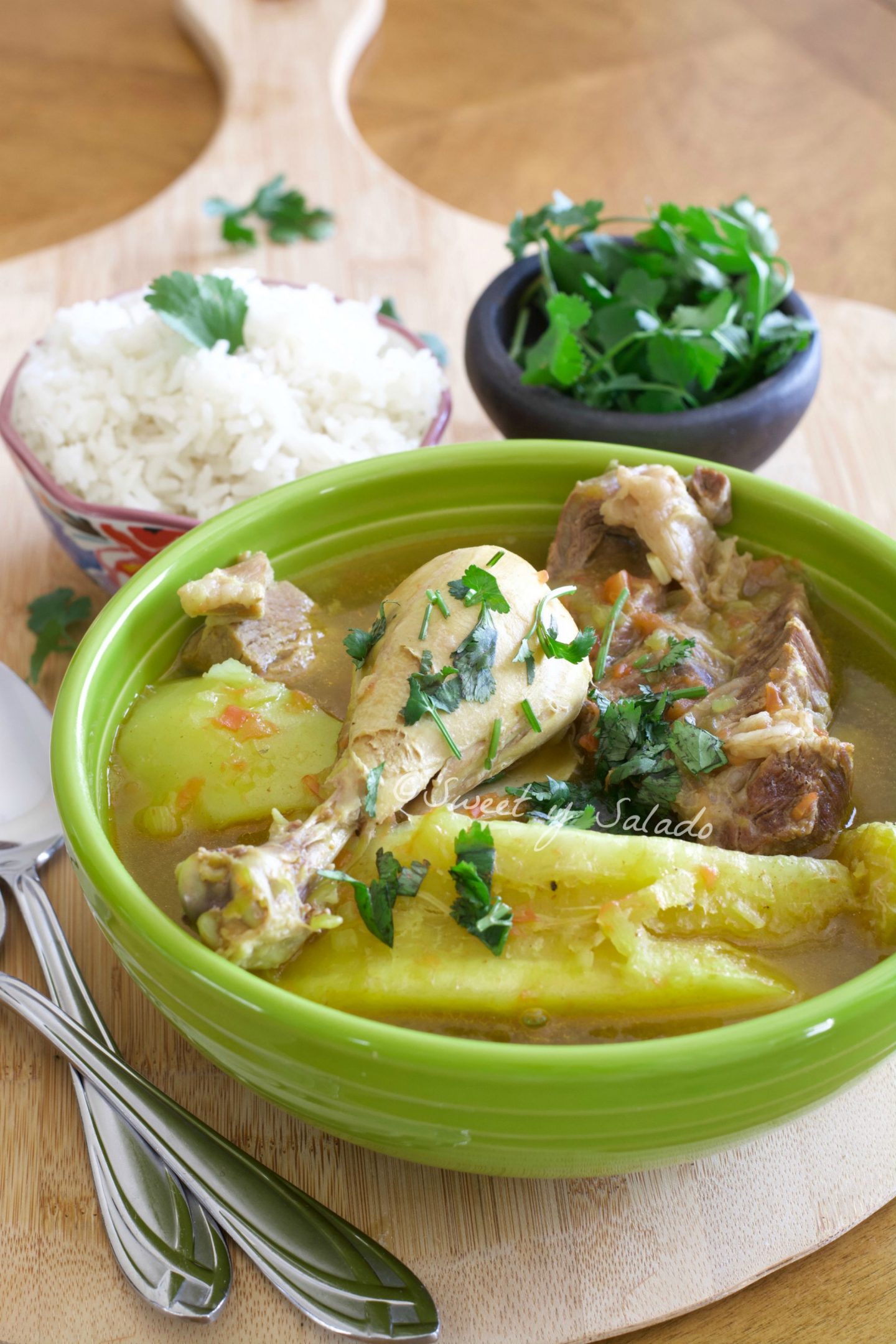 You can't imagine the frustration I feel from time to time when I read comments, not only on the blog but also on different social media platforms, saying things like "That's not how I, or my mom or my grandmother or my aunt makes it". "That's not a Colombian sancocho because it doesn't have arracacha or you didn't make it with hogao o it's not thick enough". "In my house we only make it with plantain and potatoes and don't add cassava" or "And the onion? I see that you added aliños but I don't see any onion". Let's just say that they are such negative comments that they make me want to shut down the blog and not share any more recipes with the rest of world. For what? So they can criticize something they never tasted? The good news is that I have never seriously considered shutting down my blog, however, this is my answer to all those negative people, a sancocho, a pot of beans, an arroz con pollo (chicken and rice), a seafood stew or a tamal can be made in a ton of different ways depending on the region, the city or the family member who is making it.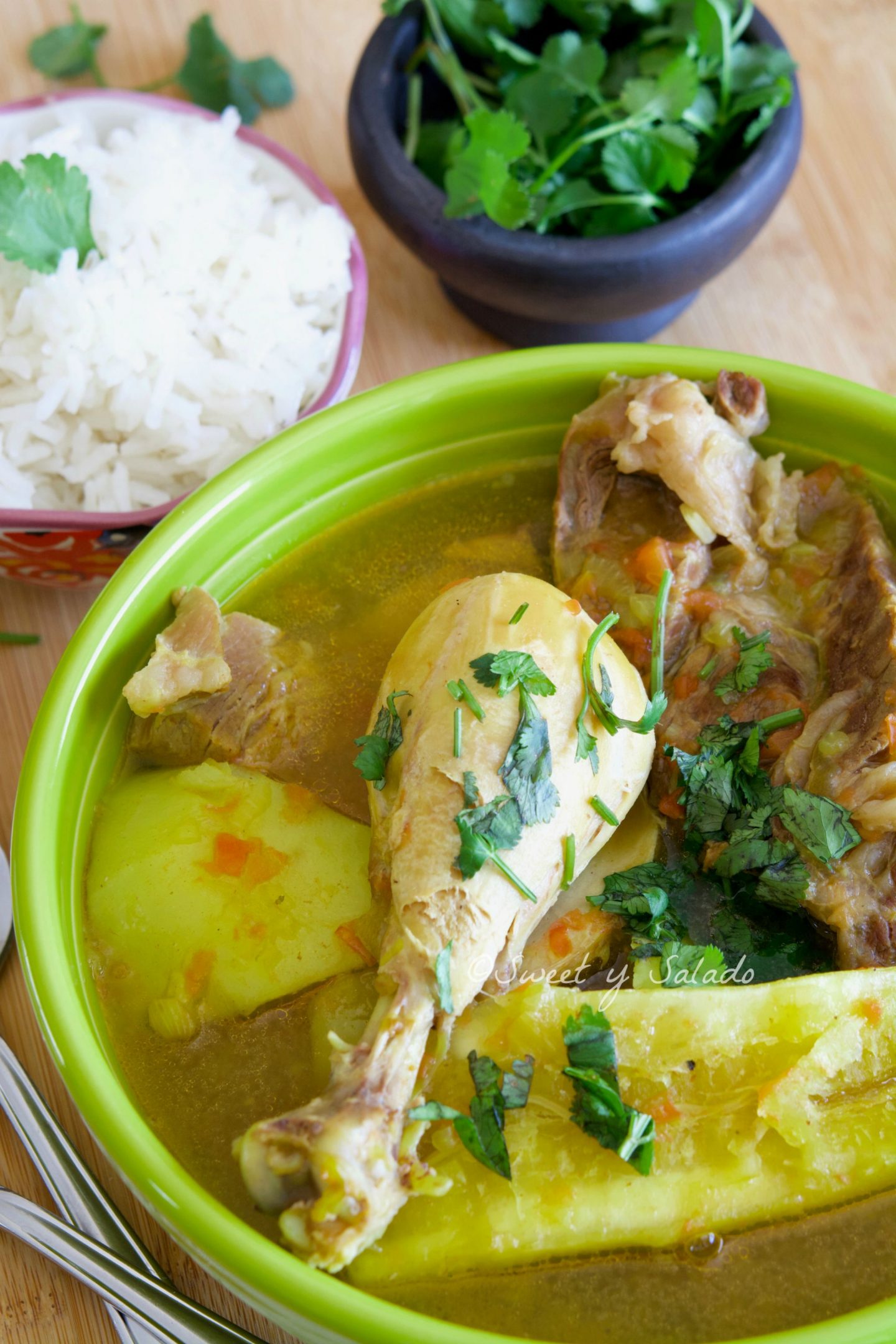 This recipe is not only different because I make a guiso or base sauce at the beginning of the cooking process and blend the plantain to add more flavor and thickness. It's also unique because it is made with three different types of meat, chicken, pork and beef. Some will think it's an exaggeration, and it is! But to minimize the huge amount of ingredients that it has what I do at home is serve smaller portions of meat and don't add corn, which really doesn't matter here in the US given that you can only find sweet corn and it doesn't go that well with this dish. And it really doesn't matter which type of meat you end up using, use the meat you enjoy eating the most and you'll see how delicious this sancocho trifásico turns out which is a Colombian cuisine classic.
¡Buen provecho!
Print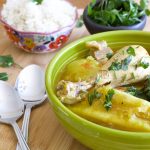 Sancocho Trifásico (Three Meat Colombian Soup)
Prep Time:

0 hours

Cook Time:

0 hours

Total Time:

0 hours

Yield:

4

1

x

Category:

Main Dish, Soups

Cuisine:

Colombian
---
2 tbsp

oil

¼

white or yellow onion, chopped

2

green onions (stalks only), chopped

2

garlic cloves, finely chopped

2

medium tomatoes (I use Roma), chopped

1

beef bouillon (optional)

½ tsp

ground cumin (or to taste)

1 tsp

color (Triguisar, Sazón Goya, Bijol or homemade)(optional)

8

–

10

cups (

2

–

2¼

liters) water

1

lb beef cut into 4 equal pieces (any kind of beef, beef short ribs and chuck work very well)

4

bone in chicken pieces (drumsticks or thighs)

1

lb pork meat cut into 4 equal pieces (any kind of pork meat)

1½

green plantain roughly cut into pieces

½

green plantain (whole)

4

red potatoes, peeled and cut into quarters

4

pieces cassava
Salt and pepper to taste
Chopped cilantro for garnishing
---
Instructions
In a large pot heat the oil over medium heat, add the white onion and cook until it's translucent, about 3 minutes. Add the green onion and garlic and cook for another minute. Now add the tomato and cool until it softens, about 3-5 minutes. Add the beef bouillon, ground cumin and color with a small amount of water to make a guiso (sauce).
Add the beef with the rest of the water. Cover the pot and bring it to a boil over high heat. Once it is boiling reduce the heat to medium low and cook for about 10-15 minutes. Then add the chicken, pork, chopped plantain and whole plantain. Bring it to a boil once again and cook on medium low for 35 minutes.
Take out the whole plantain and blend it with about ½ cup of soup to make a puree. This intensifies the flavor and helps thicken the soup.
Add the potatoes, cassava and the plantain puree to the pot. You can also add more water if you think it's necessary. Season with salt and pepper to taste. Cover the pot and bring it to a boil on high heat, then reduce the heat to medium low and cook for about 15-20 minutes or until the potatoes and cassava are cooked.
Check for seasoning and add more salt and pepper if needed. Serve immediately with chopped cilantro, white rice and avocado.
---
Notes
You can also make this sancocho with corn pieces which can be added with the plantains or with the potatoes and cassava, depending on the hardiness of the corn.