This apple walnut salad is one of the quickest and easiest salads you can make and also, one of the most delicious.
I love making salads, especially when they take no time to make and this apple walnut salad one is always at the top of my list. I always make it by mixing green apples with Fuji apples to get the most flavor. Also, I combine different types of lettuce to give it more texture. And to add that final touch, I use cotija Mexican cheese which is not too tart and not too bland.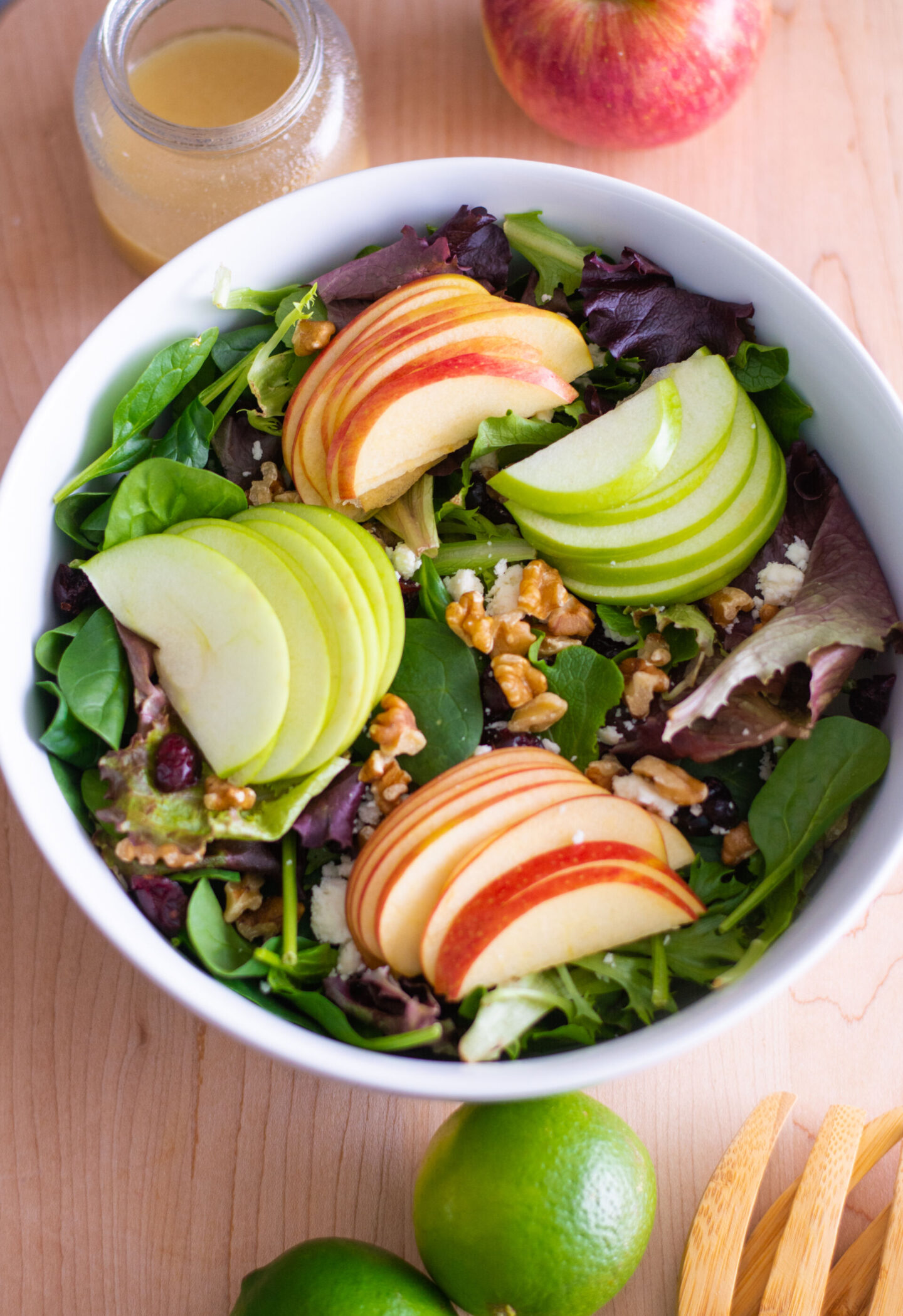 The ingredients you will need to make this salad:
You won't need many ingredients and most of them you will probably have on hand. Also, like I have always said in other recipes, feel free to use what you like best.
Mixed greens like baby mix, spinach, red leaf or green leaf lettuce. If you want to get that crunch, you can also use Romaine lettuce.
I love using green apples to add a bit of tartness mixed with the sweetness of Fuji apples. Another apple that works well would be gala.
As for the cheese, I tend to use Mexican cotija. Other cheese that work well for this recipe would be blue cheese, goat cheese or feta.
In this version I am using regular packaged walnuts but this salad turns out amazing when using candied nuts like walnuts, pecans or even almonds.
We will be making our own maple mustard vinaigrette which simple, super delicious and it pairs really well with the apples.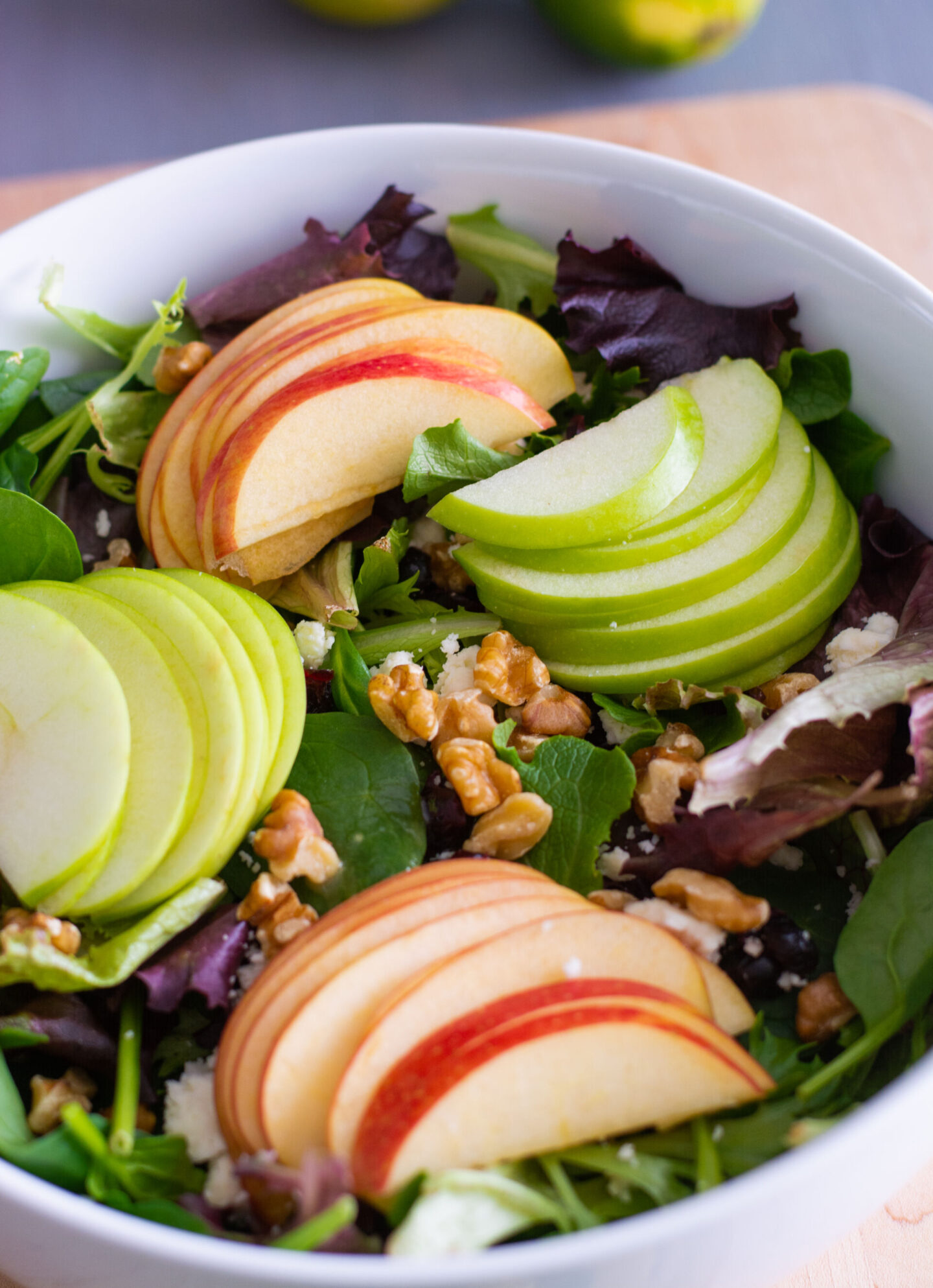 The assembly:
The first step is to make the vinaigrette and store it in the fridge until it's time to serve the salad. This way the mixed greens won't be too soggy when it's time to eat.
Mix all the greens really well especially if you're using different types like spinach with other kinds of lettuce.
You cut the apples anyway you want. I prefer to slice them really thin because they give the salad a better presentation, but you can also chop them into cubes, large or small. One tip is to slice the apples right before serving so they don't turn brown.
Now you can add your toppings like dried cranberries, blueberries or even fresh fruit like strawberries, especially when they're in season. Pomegranate seeds would be another option. Add the walnuts or any other nuts you want to use and the crumbled cheese.
When it's time to serve all you have to do is toss it all in with the vinaigrette.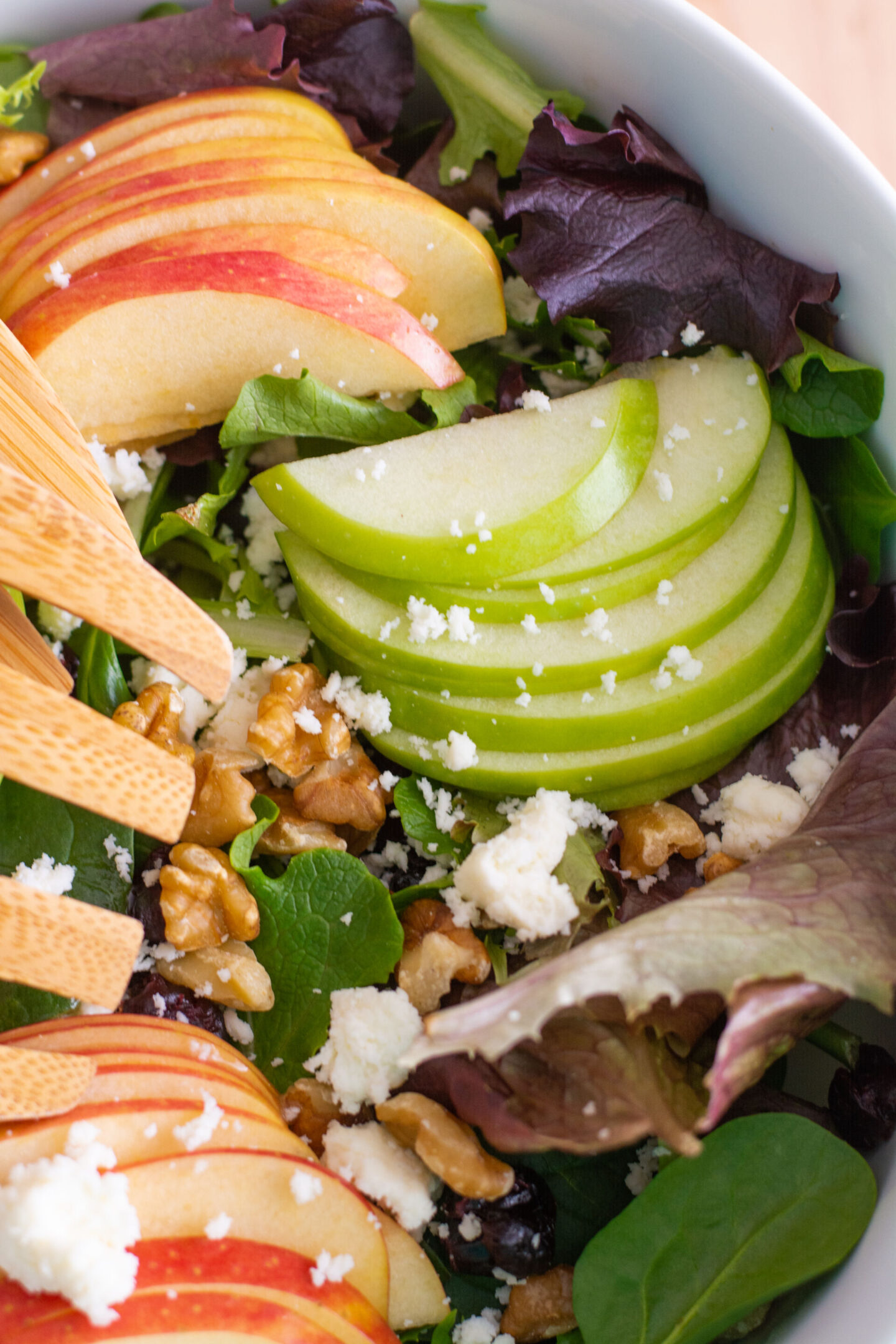 The vinaigrette:
There is really no right or wrong way to make it. All I do is mix all of the ingredients in a small container, give it a good stir and that's it.
You will need oil, any kind of oil will do, I usually use olive and sometimes coconut oil.
Lemon juice works perfectly for this vinaigrette but if you want a bit more of a tang, you can use limes as well.
Dijon mustard is a must and if you don't have it on hand, just skip it. Don't use regular mustard because it doesn't work as well as the Dijon.
I love using maple syrup for this recipe but honey works just as well.
And of course, season well with salt and pepper to taste.
Other salad dressings that work well with this recipe:
How quick and easy was that? Another great thing about this recipe is that you can serve it all year round. It is great with grilled chicken in the summer time or as a delicious side dish for special occasions like Thanksgiving, Christmas or Easter.
Serve this salad with:
¡Buen provecho!
Ingredients
2 cups (2.5 oz or 71 g) baby spring mix greens or any other lettuce
2 cups (2.5 oz or 71 g) baby spinach
¼ cup (4 tbsp) dried cranberries
¼ cup (4 tbsp) walnuts
2 tbsp cotija chese, queso fresco, feta or blue cheese, crumbled
½ green apple thinly sliced (Granny Smith)
½ red apple thinly sliced (Fuji or gala)
Vinaigrette

3 tbsp olive oil
1½ tbsp lemon juice
2-3 tbsp maple syrup
1½ tbsp Dijon mustard
Salt & pepper to taste
Instructions
Salad

In a large bowl toss the baby mixed greens, baby spinach, cranberries and walnuts.
Arrange the apple slices on top of the salad.
Sprinkle with the crumbled cheese.
Vinaigrette

Mix the olive oil, lemon juice, maple syrup, Dijon mustard and salt & pepper in a small jar or container, cover and shake well. You can also whisk these ingredients in a small bowl.
Drizzle the salad with the vinaigrette right before serving.
Notes
You can store the dressing in the fridge for up to 3-5 days.
https://sweetysalado.com/en/2023/08/apple-walnut-salad.html